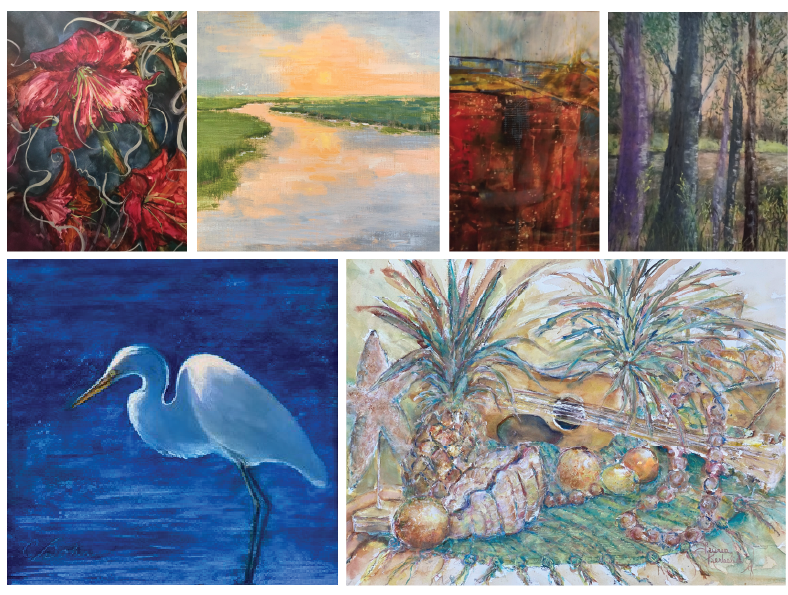 Event details
Tuesday | May 9, 2023 to Thursday | June 29, 2023
9:00 am - 5:00 pm
1301 Greene Street, Augusta, GA
706-826-4700
Art Reception Opening: Tuesday, May 9, 5-7 PM in the Great Hall
Exhibition in the Art Hall: May 10 – June 29, 2023
Virtual Art Exhibit: https://youtu.be/yXhSYaHPwkY
Artists: Marlena Bergeron, Gail Smith, Lala Mulherin, Lauren Kerbelis, Lou Ann Zimmerman, Carolyn Bohn
Marlena Bergeron
Marlena Bergeron started plein air painting in her yard in 2014 and with Women on Paper in 2017. She finds bliss outdoors with mixed media when she's not busy digging or documenting as a Master Gardener and Master Naturalist. Leaning towards pastels and watercolors to capture light and sensations when in nature, she also employs acrylics and collage for indoor extensions. Art is her way to bear witness to the celebration of creation, whether micro-mode close-up or macro-mode wide angle, her canvas is her interpretive snapshot of a moment in all its messy, emotional, complicated, beautiful, and breathtaking iterations.
Gail Smith
Gail Smith is a native of Georgia's Golden Isles. Her work reflects fond memories of time spent in this captivating area. Traveling throughout Europe and parts of Russia, Gail studied from the work of the old masters. She has taken numerous workshops with artists including Chris Groves, Bill Davidson, Nancy Bush, Albert Handel, and Kevin Fitzgerald. Gail has built her oil and gouache work around plein air painting. Working on location in various types of weather and seasons gives her work vivid color and brings her paintings to life. Her work can be seen at Art on Broad in Augusta, GA.
Lala Mulherin
Lala Mulherin Streett is an Augusta native. She graduated from the Ringling Art School. She has taught workshops and juried exhibits locally, nationally and internationally. Lala's love of art extends beyond her personal work. "Art is a wonderful way to learn to 'see' and I want everyone to experience the beauty and excitement of the world around them."
Lauren Kerbelis
The combination of Lauren's passions of art and travel has allowed a creative life path to emerge. While living and working in Augusta for over 30 years, she always kept her Wednesday's open to paint with her plein air group in a variety of local locations.  One favorite, Sacred Heart Cultural Center. Blessed to work for her family business, Southern Travel Agency, allowed this creative time to be carved out with Women on Paper. Through her direct impressionistic style she brings to paper or canvas a scene that allows the viewer a personal journey through the painting, a sense of being there.  Working on location brings a wealth of elements to incorporate within a scene, grabbing quickly what could go unnoticed by brush and paint.  Bring back notes of the moment and inspiration, assists with completing the work in studio. Recently moving to Florida the balance of art and travel continues; with Florida art memberships and the luxury of having a home office and studio. "We are all artist within.  All glory to our Creator for allowing us to find the beauty of life, art and friendship."
Lou Ann Zimmerman
I have been a painter throughout my adult life. Experimenting with new techniques and materials has kept me interested. I like to select the medium that will most closely convey the feeling I have for a subject. And then, using collage, watercolor, acrylic, or cold wax and oil, I can translate the vision I have to canvas or paper. My hope is that the viewer will find their own story in the painting. Owning the Zimmerman Gallery in Augusta for 18 years was a great experience. I met wonderful people there. In working as a past president of the Georgia Watercolor Society, the Board of Directors for the Gertrude Herbert Institute of Art, and as a Signature Member of the Whiskey Painters of America, I have also made friendships that will last a lifetime.
Carolyn Bohn 
Award winning multi-media artist Carolyn Bohn is a later-in-life artist without any formal training.  Being an artist has enhanced her life by being more mindful and aware of her surroundings. Although she began working in oils, Carolyn's discovery of pastels and sanded papers has allowed her to pursue both painting and drawing.  Yes, you do 'paint' with pastels. Carolyn is the owner and facilitator of My Studio & Atelier, a membership based studio that gives members a small space of their own and an Atelier where they  gather to learn and paint in a place filled with energy, inspiration and camaraderie.