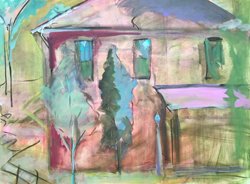 Event details
Thursday | April 22, 2021 to Saturday | April 24, 2021
4:00 pm - 6:00 pm
1301 Greene Street Augusta, GA 30901
706.826.4700
Work on view NOW in the Art Hall Monday – Friday, 9 am – 5 pm
Click Here to view the virtual art exhibition
Staci Swider's visual history includes stints as both a corporate and freelance textile designer, professional painter, and author. Her work is exhibited at many galleries across the Southeast. Currently she paints with acrylics, layering those with oil pastels and grease pencil, incorporating a little collage on occasion, and building things just to shake it up a little. She is a Certified GOLDEN Artist Educator and in addition to yearly artist residencies abroad she enjoys taking groups of artists to Europe to paint.
Elizabeth Moretz-Britt was born in Utah, raised in Augusta and now resides in North Augusta. Influenced by a line of artistic women, she attended Queens College in Charlotte and received a Bachelor of Fine Arts Degree in Painting and Drawing from the University of Georgia. Elizabeth has studied in France, Italy and at the Scottsdale Artist School with Milt Kobayashi. Her work is influenced by the Impressionists and Fauvist painters of the 20th century, along with her personal environment and the people who surround her.
An Artist Reception will be held Thursday, April 22 in the Great Hall from 4:00 – 6:00 pm.